Here at absence.io, we prepare our clients—which range from legacy companies, governments, to startups—to easily manage planned and unplanned absences. Beyond our snazzy tech, we're committed to providing talent managers and business owners key insights into the future of work and people management.
Because bringing out the best people takes work.
And the right tools.
We're the eyes-on-the-ground for what tech tools are moving the HR industry forward. Our latest discovery is moving mountains in bringing how global companies manage their global workforce. With offices around the world, Papaya Global oversees global payroll, keeps employee records, and makes sure their clients remain 100 percent compliant with national and international standards. In fact, they were the first HRIS solution to promise 100 percent GDPR compliance. Which tells you they're committed to solving problems before their clients receive a hefty fee.
Papaya Global CEO, Eynat Guez, shares her insight into the critical social movements affecting HR, the challenges a global company faces in managing a global workforce, the future of work, and her love of open water swimming.
What led you to founding Papaya?
The beginnings of Papaya goes way back. My career started in global relocation and holding companies. Projects were mainly in Africa and Asia. But what I saw firsthand was companies, that had no local presence, had difficulties in keeping compliant because they had no local insight on the rules. They also seemed to have issues with immigration, because they had few resources to understand what policies were changing. This kind of challenge stuck with me.
What does Papaya Global do?
We provide the transparency and execution of one of the biggest challenges for international companies. A global company has to follow the rules of a local company, which makes sense, but for an international company with employees from all over the world (with different visa requirements, etc.) it quickly becomes a tangled problem. Payroll includes contracts, local benefits, immigration, and administration red tape.
China provides different payroll data than Brazil does, for example. They both have such different regulations and demands. Most companies still don't have any idea on how to consolidate that kind of data, local information; there is a lack of understanding in how to adhere to local compliance easily—and quickly. Before us, clients struggled getting this kind of information beforehand. Now, they understand the environment they're operating in.
What are the changes you've seen in how tech is augmenting the human work experience?
Firstly, regulations are getting stricter. It becomes more difficult to relocate people. When I worked in relocation services earlier in my career, contractors were not bothered by local compliance. Today, companies need to be more aware. With tech, rules can change faster. So companies need to  have a system in place that allows them to be more agile while still be able to find and manage the best talent.
What are trends that are shaping how companies work with employees?
Recently, President Trump made immigrating to the United State more difficult by heightening requirements. Talented people are being denied access to the U.S., so companies are having to figure out where to place them. It feels benefits are becoming more stratified. For example, some freelancers want the same social benefits as regular employees, like having local holidays off. On the other hand, regulations are changing where it's more difficult to terminate employees under the guise of "let's protect our work force". This has been happening in the last 3-4 years.
How do you envision the human work experience in the next 5-10 years?
Companies will be facing compliant-heavy issues, as regulations are growing stricter. Companies will have a global workforce, with freelancers and remote employees working in different time zones. Employees will be asking for employers to provide local benefits, like meal vouchers and gym memberships. There was a recent story on how a group of engineers working for Facebook wanted the same benefits as their Menlo Park colleagues, though this group engineers worked elsewhere in the world.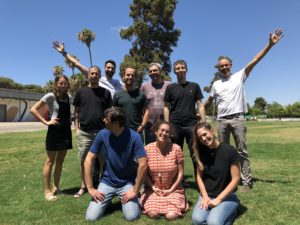 What are companies asking for now they didn't ask for 2-5 years ago?
Determination processes have become super important. Benchmark what are the local benefits and packages. They want to understand what annual costs look like in their respective industries. Many companies are starting to roll out paternity leave.
You were one of the first HRIS solutions to offer virtual currencies as a payment method for employees. Why was that important to you?
Social forces affect how companies run their company, but also affect employees expectations about their employer. We want to provide a solution for employees and employers where they can meet and work easily together. Crypto is a symbol of that. Exchange ranges can be crazy and change their monthly income, so we want to be sure our customers can always remain compliant.
Since you see how companies manage people, do you have any advice to managers or founders in how they oversee?
Be open and transparent. It's important to speak about the bad thing too. Keep an open relationship with employees, sharing both the troubling and the good. When employees feel they know what's going on in the company, they will feel more connected to it.
You're an open water swimmer, are there exercises or methods that you carry between swimming and running a company?
It's my time to disconnect. It's my own form of meditation. When I'm in the water, it becomes the only place on Earth where I can renew. When you're able to go into such a space, you bring new energy into your work.
Special thanks to Eynat Guez for this interview!
At absence.io, we're doing something different when it comes to absence management. Governments, companies–like MyTheresa and Check24–trust our digital method to help them navigate planned (and unplanned) employee absence.
Popular posts like this: